Sunday's Town Square Crits
Men's A
Gold: Evan Bybee
6th: Ricky Randall
7th: Cory Scott
9th: Tony Baca
13th: Sean Brown
Women's A
Gold: Claire Routledge
Silver: Ashley Weaver
Men's B
Gold: David Barrett
7th: Erick Goytia
8th: Caden Burross
Men's C
21st: Anthony Sequera
Women's C
Silver: Andre Giron
Men's D
9th: Randee Sneed
Continue reading Texas State University Ultra Road Race and Criterium, April 13th-14th →
This past weekend the MSU mountain bike team went down to Solavaca Ranch for the South Central Collegiate Cycling Conference mountain bike championships. We got down to the ranch late Saturday for the conference dinner and discusion about the 2013 road season, then a campfire and camping with the rest of the teams before Sunday's racing. It was a great weekend and an awesome end to the MTB season.
The single track was littered with climbs, gravel, and some rocky descents.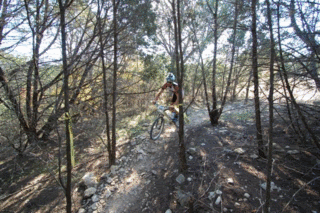 Aldo had to charge this one on foot.